Our impact goes far beyond just our client base.
Our team regularly attends conferences, trade shows, and a variety of training opportunities, both personally and professionally, which is only skimming the surface of our actionable impact within the industry.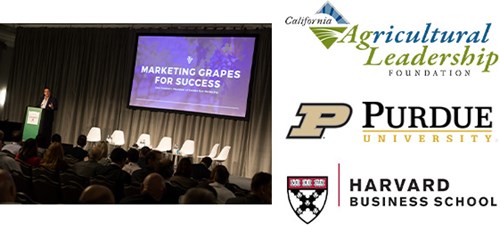 GSI Founder Don Goodwin is a highly regarded speaker on issues impacting the fresh produce supply chain. During his career, Don has spoken at conferences all over the world. Audiences are captivated by his extensive retail experience and expertise. His global network of contacts has propelled professional and personal relationships for clients and beyond.
Don is a speaker, case study writer, and attendee at Purdue University and the University of California Davis Agriculture Leadership Program. He is also a 10-year attendee of the Harvard Agribusiness Program.
In 2019, Don spoke at the Global Grape Summit in London, England, where he presented amongst some of the most influential and insightful speakers in the industry. There he was rated the top speaker for his perspective on "Marketing Table Grapes for Success".

"Don has consistently demonstrated that he has an awe-inspiring knowledge of the produce industry and how to use marketing strategies to achieve success. He always draws in an audience due to the unique insights and expertise he provides, as well as his engaging manner of speaking and connecting with people. Don's presentation was highly respected and valued by all individuals who attended."
Gustavo Yentzen
|
Yentzen Group