America's Favorite Mushroom
Overview
Giorgio is known as America's Favorite Mushroom and for good reason. Giorgio has been growing mushrooms for over three generations and today is one of the largest mushroom growers in the world. Rooted in nearly 100 years of experience, Giorgio is committed to family. It's why consumers can't pick a better mushroom than Giorgio. Through the partnership with GoldenSun Insights, Giorgio has developed a growth marketing strategy, including strategic innovation and development.

www.giorgiofresh.com/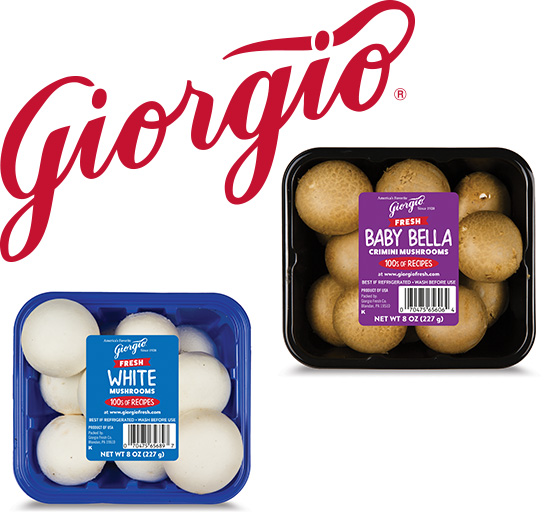 Strategy
GoldenSun Insights has partnered with Giorgio for nearly 10 years, collaborating closely to drive the achievement of strategic goals, execute impactful marketing initiatives, and foster innovation in product development. As a strategy-centric firm, GoldenSun Insights has successfully spearheaded the creation and implementation of a captivating, consumer-centric website with a strong emphasis on mushroom-based recipes, providing valuable resources for customers to deepen their understanding of this versatile ingredient.
In tandem with the comprehensive social strategy, Giorgio has harnessed the power of influencers and their reach on social platforms, captivating videos, and enticing recipes to cultivate robust engagement and foster unwavering loyalty towards the respected Giorgio brand. Through collective efforts, GoldenSun Insights has significantly contributed to Giorgio's rebranding efforts, overseeing the creation of compelling logos, packaging designs, product labels, and an array of impactful marketing materials. GSI has also played a pivotal role in establishing a prominent trade presence by offering tradeshow support, crafting press releases, and cultivating media relationships.
Results
As a dedicated partner, GSI has actively participated in the introduction of novel and groundbreaking products to the market. Our collaborative brainstorming sessions have led to the generation of groundbreaking ideas, and our expertise in naming, packaging, and marketing strategies has ensured the successful launch of these innovative offerings.