A Peach Without Comparison
Overview
Lori Anne Peaches are a premium peach program from Titan Farms that are handled to ensure optimum flavor and ripeness. In 2012, GSI pitched the idea of creating a brand and go-to-market strategy for the premium peach to Titan Farms owners, Chalmers and Lori Anne Carr. Together Titan and GSI developed a program encompassing a stringent quality protocol to create the most sought-after peach on the market. Titan Farms relied on GoldenSun Insights to develop a brand and marketing strategy that would ensure a successful launch of these unique peaches.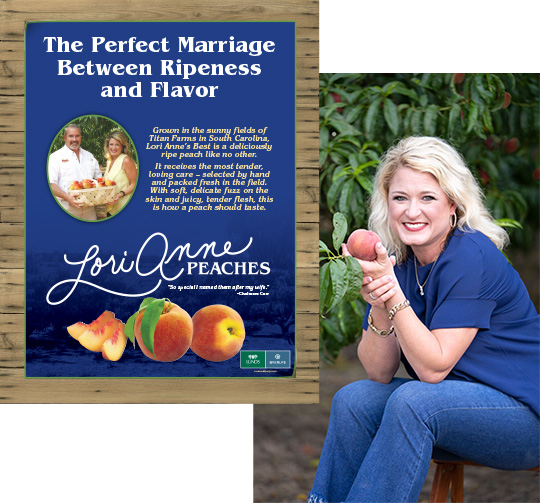 Strategy
When GSI and Titan Farms began developing a strategy, they soon realized the key to success was educating and identifying select retailers who appreciated high quality in their stores. They then offered these retailers exclusivity in the market. Together, GSI and Titan Farms created a brand and position for the peach. Named after Chalmer's wife and co-founder of Titan Farms, the Lori Anne Peach was born. Every element, including signage, in-store visits, produce manager training, and extensive social marketing content, exemplified the premium characteristics of this extraordinary peach. Shortly into program development, GSI and Titan uncovered the key to building brand awareness and growing their core audience. The key was to put Lori Anne herself directly in front of the consumer through in-store demos. Lori Anne's extensive education on all things peaches and her ability to engage consumers, resulted in peach sales lifts each year. The collaboration with retailers and the GSI/Titan Farms team resulted in a high-flavor peach program, unlike any other in the market.
Results
The Lori Anne Peach Program has curated a loyal following among retail customers season after season. Dozens of emails, voicemails, and letters come every year to the farm with praise and positive reviews. Titan Farms is distinguished as an innovator in the category as the largest grower of peaches on the East Coast.