Tasting the Difference: Comparing Opals to Apples
Overview
Opal apple is a cross between a Topaz apple and a Golden Delicious apple boasting a sweet and tart flavor with a significant crunch, much like the Honey Crisp. Opals are one of the few naturally non-browning and non-GMO apple grown exclusively in the United States by FirstFruits Farms in Washington. FirstFruits Marketing partnered with GoldenSun Insights to craft a long-term strategy, positioning Opal as one of the top apples in the marketplace.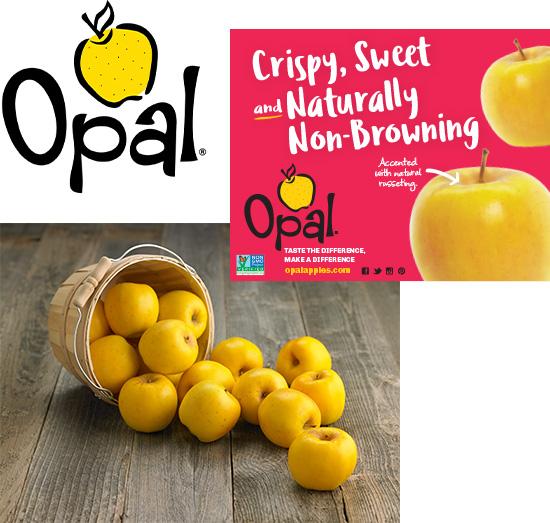 Strategy
GSI was instrumental in creating the positioning for the Opal apple. They developed the brand tagline as "crispy, sweet and naturally non-browning". Alongside, this apple went through a rigorous process to become Non-GMO Project Verified. FirstFruits and GSI collaborated to layout a business development strategy for Opal. Together, they tapped into a small number of retailers for the first few years, which has since expanded to Opal apples having a dominant presence in stores nationwide with an immense fan following. GSI continues to work side-by-side with FirstFruits in the expansion of Opal apples to retailers across the country. In supporting Opal, GSI implemented a proprietary marketing strategy for the brand's message that includes in-store retail integration, digital and traditional advertising, and social marketing to deliver successful results.
Results
Incorporating strategy, marketing and business development, Opal is one of the top-performing proprietary apples in the market. The crispy, sweet, and naturally non-browning apple has started to replace the Golden Delicious in some retailers and has seen a continued increase in sales and demand. Once consumers discover the Opal apple, they are life-long fans, as there is no comparison of Opals to apples.