Successful Launch of a Groundbreaking Tearless Onion
Overview
Sunions, America's first tearless and sweet onion, launched in the fall of 2017. After nearly 30 years of research and development, and through natural hybridization, the onion was perfected. Sunions have a game-changing tearless and sweet flavor that only gets better with age. Nunhems, the seed company behind Sunions, partnered with GoldenSun Insights to develop a strong marketing and business development strategy to ensure a successful launch of Sunions.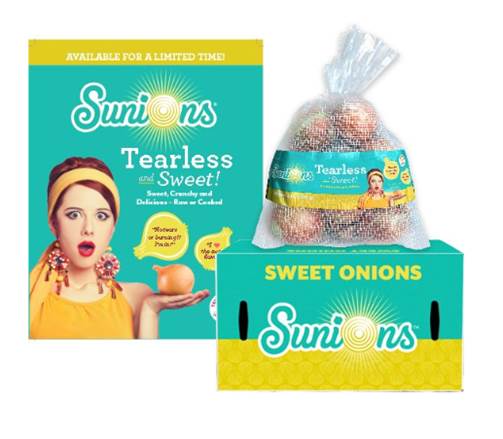 Strategy
GSI and Nunhems uncovered the strategic steps needed to be taken to ensure both retailers and consumers connected with this game-changing onion. As a result, a stringent protocol process was established to ensure Sunions lived up to its brand promise. Each year, Sunions are tested by experts to ensure their tearlessness and sweet flavor meets the strict internal standards needed to be released into the market.
With Sunions being a gamechanger in the kitchen, GSI and Nunhems knew the brand had to have a fun, playful brand archetype that would speak to consumers long past the inaugural season. GSI developed the brand and extensive marketing strategy to support that positioning. Leveraging GSI's proprietary marketing strategies, Sunions has delivered successful results for growers and retailers year after year.
Results
Sunions have continued to break barriers moving into more retailers with each season. The most recent season expanded into nearly 10,000 retail stores nationwide. With the support of a comprehensive marketing plan and a well-rounded business strategy from GSI, the exclusive growers of Sunions, have significantly expanded their acreage the past few seasons to be able to meet each growing season's demand.